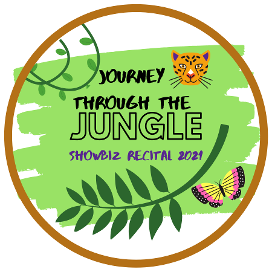 Journey Through the Jungle: Showbiz Recital 2021
May 30th @ 3pm
THIS PAGE IS DEDICATED TO ALL THINGS RECITAL 2021! YOU WILL FIND THE RECITAL PACKET (WHICH HAS LOTS OF INFORMATION regarding RECITAL), WHERE YOU CAN BUY TICKETS, INFORMATION ON PICTURE DAY, AND MORE.
RECITAL PICTURE DAY IS ON SUNDAY, MAY 16TH! YOUR CHILD NEEDS TO COME DRESSED IN THEIR FIRST COSTUME WITH HAIR & MAKEUP COMPLETED.
We are selling 3-Stem & 6-Stem White Rose with red glitter bouquets. click the link below to order your flowers today! recital flower orders close on tuesday, may 18th.
Recital Costume Sites!
Make sure your dancer has ALL THEIR TIGHTS & SHOES prior to Picture Day (MAY 16TH).