Summer @ Showbiz 2022
Let's dance! It's going to be a super duper summer @ showbiz:) we have lots of fantastic camp lined up for your dancer. check out what we have to offer!!!
3 - Day Half Day Camps
Ages: 3-10
Time 9:00am-1:00pm
Cost: $155 or $130 if paid before in full by June 1st
Registration for camps opens on April 1st.
*Note - Dancers must bring their own lunch (NO PEANUTS). *Note - Please inquire about Before & After Camp Care.
FROSTLANDIA FANTASY - WEDNESDAY, JUNE 8TH THRU FRIDAY, JUNE 10TH
Welcome to the World of Frostlandia! A mythical place full of frozen wonder that is home to the Kingdom of Showbiz. Dancers will go an icetastic adventure to save the kingdoms royal heir, Princess Popsicle, who is trapped in an ice castle by Jack Frost. With the help of friends like Anna and Elsa of Arendelle, your dancer will journey through the Enchanted Ice Cream Forest to do Ballet in the Polar Bear Express, create some Snazzy Jazzy dance moves with Olaf & Frosty, and even play Reindeer Tap Games with Sven & Rudolph to save Princess Popsicle. Come be transported to the World of Frostlandia where "the cold never bothers us anyway!" This is a Tap, Jazz, & Ballet Camp.
*NOTE - Dancers have the option to attend Frozen the Musical at The Fox Theatre on Thursday, June 10th @7:30pm. Price of the camp with this option is $175. Transportation is included!
Party like a popstar princess! - wednesday, june 15th thru friday, june 17th
Your dancer is invited to a rockin' royal camp like no other! Dancers will experience the VIP treatment with popstar makeovers fit for any princess, sparkly crafts that show off their exquisite taste in fine jewelry, and dance parties with the industry's hottest choreographers. All the popstar princesses will perform one EPIC music video that will be sent to parents. On the last day of camp, we'll have a Karaoke Bus take us to get ice cream and let us sing our hearts out! Your dancer will shine like the star they are at this camp! This is a Tap, Jazz, & Hip Hop Camp. No previous dance experience is required.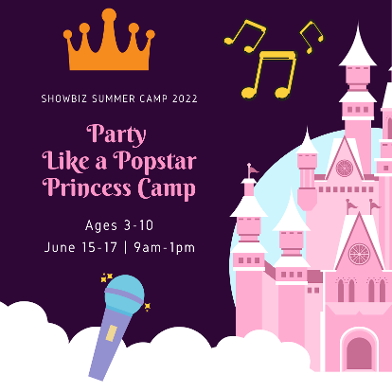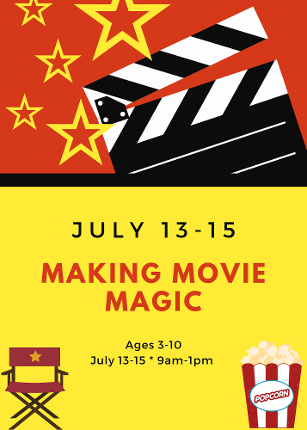 MAKING MOVIE MAGIC - WEDNESDAY JULY 13TH THRU FRIDAY, JULY 15TH
Congratulations! Your dancer has been cast as a lead performer in this summer's newest blockbuster movie Dance Sensation. The story follows The Showbiz Crew; a group of dancers who've auditioned to be on the television contest, Dance Sensation. Your lead performer will have the opportunity to sing, dance, & act in fabulous costumes for scenes such as "Broadway Ballet", "Tap Tornado", "Jump, Jive, N' Jazz", and "Whodunit Hip Hop". Our last day on set will end with a fabulous red-carpet party with a special guest performer. Don't miss out on the Lights… Camera… Action… and Movie Magic!